High-brightness LED lighting circuit analysis
Author: Shandong Wang Xiufeng
In terms of luminous efficiency, commercial LEDs are 30 to 501 m/W, which is superior to incandescent lamps, second only to fluorescent lamps. 1001m/W LEDs will be put on the market soon.
The US semiconductor lighting research and development project has a luminous efficiency of 200 lm/W, which is almost twice as high as that of high-pressure sodium and metal halide lamps. Two or three years ago, the operating current of LEDs generally did not exceed 30 mA. The Luxeon LEDs that Lumileds Lighting put on the market have white, blue, red, green and other light colors. LEDs with operating currents of 220mA, 350mA, 500/550mA and 700mA, 1000mA will soon be commercialized. This high-current LED can replace incandescent and tungsten halogen lamps for landscape lighting, automotive and indoor lighting .
Figure 1 shows an LED driver circuit consisting of a step-down transformer and a bridge rectifier filter circuit. The LXHL-MWlD has an operating current of 350mA and a forward voltage drop of 3.5V. This kind of driving circuit is relatively simple, but the current regulation rate can be higher than ±25% when the AC voltage changes by ±10%. At the same time, when the AC voltage rises instantaneously, the LED is easily damaged.
Figure 2 shows an LED driver circuit using a flyback switching regulator. The switching power supply input is 180 ~ 265VAc, the output voltage is 3.5V (drive one LED) ~ 28V (drive 8 LED), the output current is 350mA. In the picture.
ICl is an intelligent power switching regulator integrated with PWM control circuit and 730V/10.7A power MOSFET produced by ST. IC2 is TSMll01l with built-in 2.5V reference voltage and dual comparator. R6 in the secondary circuit of the transformer is a current sampling resistor, which forms a current control loop with a current comparator in IC2. The voltage dividers R4 and R5 and the voltage comparators in IC2 form a voltage control loop. Secondary to primary feedback is achieved by optocoupler IC3.
The circuit efficiency of Figure 2 is more than 80%, and provides constant current and constant voltage working conditions for the LED. If you use TSMl04 instead of TSMlloll, you can also achieve O% ~ 90% dimming function.
In addition, ON Semiconductor has designed an integrated current source NUD4001 for 350mA LEDs. Power consumption can be reduced, but a power frequency power transformer is still required.
Smart solar outdoor light with both lighting and RGB colorful lighting, can be charged with USB and solar panel. Once it has sunlight, the solar panel can be automatically charged , the charging way is very environmentally friendly. We added a USB charging way so that it can be quickly charged via the USB cable in cloudy day or rainy day.
The outdoor light is solar-sensing, it will automatically turns off when in the bright enviroment, then begin to charge by solar. When the night comes, it will automatically turn on in the dark. Waterproof IP65 makes users no need to worry when using in the rainy day.
Equipped with a detachable plastic sticker, it can be used to decorate the lawn, garden, beach... After removing the plastic sticker, it can be placed on the table as an ambient light. They will be stars fall into your garden, twinkle in the dark and go off in the day. Automatic cycle colorful mode makes parties begin at anytime and anywhere.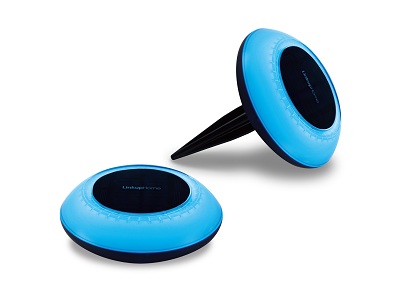 Our LED products can meet global quality standards and pass European testing by TUV Rheinland. Bulbs have certifications such as EMC, RED, LVD, ROHS, REACH, ERP and FCC.
The App are developed on the most advanced Bluetooth Mesh technology. [LinkupHome" App can be downloaded in the App store or Google Player, then you can control our product without any complicate steps. The App is stable, easy control and multifunctional.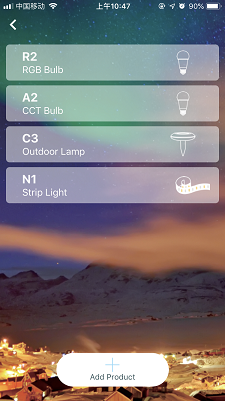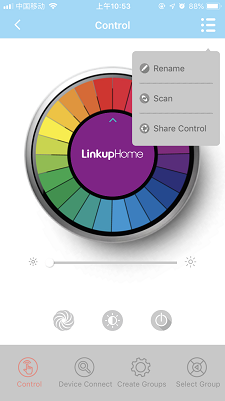 The advantages of Bluetooth Mesh are fast connect, low power consumption, no password required and Ad-Hoc Network. No need WIFI and hubs, as long as you have a Bluetooth-enabled smart phone, you can experience the smart light. When you install several smart solar lamps, the self-organizing network function can make the signals free connect, break the limitation of distance.
Product Parameters
Description: Bluetooth Mesh RGB Outdoor Solar Lamp with APP
Bluetooth: CSR Bluetooth Mesh
Control Qty: 1-48pcs
Control distance: 20m
Product dimension: 155mm *235mm
Material: ABS+PC
Lamp Color: 8pcs RGB lamp beads+4pcs Warm White lamp beads
Lamp Current: 15-20mA
LED Power: 0.4W(15LM)
Battery Capacity: 3.7V, 1000mA Li-battery included
Charge Mode: Solar panel and a USB
Battery Using time: 9h(by USB charge for 1.5h) , 5h(by solar panel for whole sunny day)
Solar Panel: Monocrystalline silicon
Solar Panel Voltage: 6V
Solar Panel Output: 130mA
Waterproof Level: IP65
Warranty time: 1 Year
Certification: CE(EMC,RED) ROHS,IP65,FCC
Color box size: 22.2*20.6*5cm
G.W. of Unit: 0.55kg
N.W. of Unit: 0.34kg

Outdoor Lamp With APP,Smart Outdoor Lighting System,Phone Control Outdoor Lamp,APP Control Outdoor Lamp
Ningbo Homey Photoelectric Tech. Co., Ltd , http://www.linkuphome.com